Are you writing or reading a book? Think about this:
What makes a criminal-minded character? What makes a character a hero?
Is someone like Puss in Boots or Jack (as in beanstalk) a hero? Traditional stories have conditioned us to believe that the character who comes out alive and well in the end is the one we should admire most. But does this constitute a character of substance, or just a wily individual willing to 'do whatever it takes' to be the last person standing?
Today when we write characters we attempt to represent admirable qualities with human blemishes. These are our heroes because they are the people we aspire to be, despite the fears and faults we keep hidden in our hearts. Fairy stories were the complete opposite. Criminal-minded characters were many times classed as the heroes of said tales. For authors or interested parties, go here to see how writers build their characters.
Criminal-minded characters classed as heroes
Here are 5 fairy stories told in a way you've never heard before. Do not read if you're of the traditional kind.
Criminal minded character 1: Jack and the beanstalk
Jack was a regular liar and a con artist. He scammed the Giant's wife – twice! The kind woman invited him into her home while her hubby was at work. She took care of him and fed him despite being scared of her husband's reaction to her visitor. Meanwhile, unemployed Jack was salivating about the larger couple's possessions. He planned the theft, executed it, then stashed his loot at his mother's house. When hard-working Mr. Giant rightfully became indignant at this little criminal's behaviour and followed him down the bean stalk to reclaim his possessions, Jack enlisted his mother to help murder him.
Criminal minded character 2: Goldilocks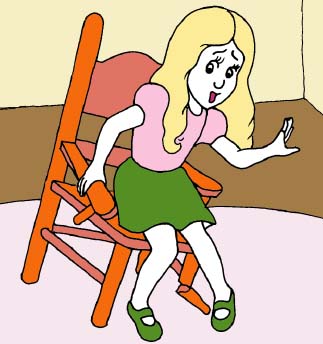 This spoilt little girl started her criminal life at a very young age when she first broke into the Bears' neat, little home. Not content with breaking and entering, she then violated their privacy by stealing their food, breaking their furniture and vandalising their bedroom. When they arrived home after their family stroll through the woods and found her in their home, she ran off and sold an untrue, sob story to the paparazzi, laying all the blame on the innocent family. Being blonde and blue-eyed, she's quickly able to establish herself as the victim, while the decent (though heavier, less attractive and possibly dyslexic) family is unfairly ridiculed.
Criminal minded character 3: Puss in boots
Puss was one naughty kitty! Unfortunately, he had the most stupid, lazy master in history, so one can understand if his depression finally gave into a complete 'postal' breakdown. Not only did his boss allow his pet cat to lie and steal for him, he was also quite happy when the animal murdered the rightful owner of the estate on his behalf. Okay, so the ogre was ugly and his foreign activities may not have been to the locals' taste. Not all of us can look and smell good, and being different does not translate into being worthless. However, this very important social concept escaped psycho cat who felt he had the right to murder Mr. Ogre in cold blood.
Criminal minded character 4: Ali Baba
Ali Baba acquired his wealth by stealing from a group of thieves. If the message we profess is that thieves are a nuisance to our society; scoundrels to be avoided at all cost, then stealing from them is committing the very act we judge as criminal. Thinking that we have a right to steal from them therefore, makes us even worse than they are because we're adding hypocrisy to our offences. Ali's brother, another villain, attempts to haul some of the loot himself only to be caught and murdered. This starts a sticky, wet trail of bloodshed orchestrated by Ali Baba's equally roguish servant girl and serial killer, Morgiana. By her deliberate actions she caused the deaths of members of the gang, then eventually killed a man with her own hands.
Criminal minded character - the last: The pea princess
She was not exactly a criminal, just a spoilt, ungrateful brat who didn't know how to practice social graces. She was taken in by the Queen of the castle, given dry clothes, food, and (granted) an extremely high bed on which to rest her weary head. She was a stranger to the elite family. She was wet and bedraggled and was lucky to be welcomed and offered such unlimited hospitality. Her response to their kindness early the next morning was to complain about one tiny pea lost in the thickness and softness of the many mattresses placed on top of it. Mind you, she was rewarded for her diva strop by marrying the Prince. Some may say that the two of them deserved each other anyway since his serial fault-finding of countless potential brides proved that he was just as spoilt as the stroppy pea fuss-pot. Not a typical William and Kate story, then.
Well, there you have it! This rounds up the story of the 5 criminal minded characters we like to present to our kids as heroes. I think they deserve to be sent to prison (or at least, be put on probation) for their nasty actions. They're criminals and no more. We shouldn't be celebrating them.
And how do you create your criminal characters? Are you a writer? You'll find this page of writing opportunities useful in between not writing characters like the aforementioned ones :-)
If you liked this, give it a share.